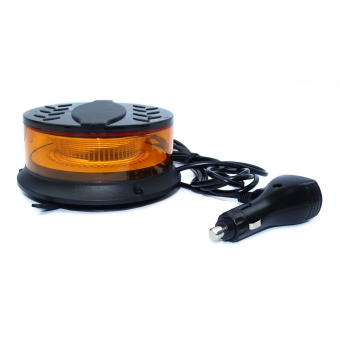 €49.95
Excl. BTW: €41.28
Prijs in spaarpunten: 1000
Excl. BTW:

€41.28

Prijs in spaarpunten:

1000

Model:

MUD-ZLMM

Spaarpunten:

50
Omschrijving
30 watt mini led zwaailamp / zwaailicht met magneetvoet. Geschikt voor zowel 12 volt als 24 volt. Deze led zwaailamp / flitser is voorzien van een magneetvoet en een zuignap en kan zelfs als vaste bevestiging gemonteerd worden. Hierdoor is deze eenvoudig bij meerdere voertuigen te gebruiken. Dit zwaailicht is voorzien van 2 meter snoer en aan/uit- en een standenschakelaar waarmee u 8 flitspatronen kunt bedienen. Dit zijn zowel flitspatronen als draaipatronen. De hoogte is slechts 60mm. A-kwaliteit.
Vermogen: 30 watt high performance led
Spanning: 12V of 24V DC (multivoltage)
Aantal flitspatronen: 8
Kleur: ambergeel (oranje)
Waterdichtheid: IP67
Typegoedkeuring: RoHs, CE, EMC, ECE-R10, ECE-R65, SAE-J845
Kap: PC
Montage: magneet, zuignap of vast
Afmeting: B130mm x H60mm
Levensduur: meer dan 30.000 branduren
Beoordelingen (0)
Beoordeel
Note: HTML-code wordt niet vertaald!

Verder