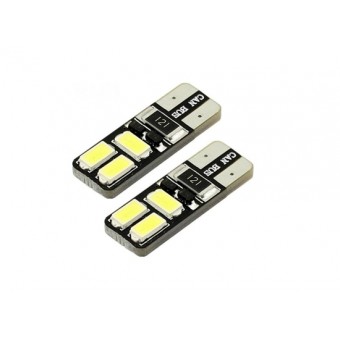 €2.95
Excl. BTW: €2.44
Prijs in spaarpunten: 60
Beschikbaarheid:

Op voorraad

Model:

MUD-T10C4

Spaarpunten:

3
Omschrijving
T10 / W5W LED CANBUS error free 6x SMD 5730. Slanke uitvoering. Dit model wordt veel toegepast bij binnen- en kentekenverlichting.
Fitting T10 / W5W (stadslicht / binnenverlichting)
Superwhite 6000K
Storingsvrij / canbusproof
Plug and Play
Eenvoudig te monteren
Combinatie met Xenon
(prijs is per stuk)
Inhoud:
1x ledlamp T10
Welk type lamp:
Weet u niet zeker welk type lamp u nodig heeft, kijk dan op de lamp-unit of raadpleeg het onderhoudsboekje van uw voertuig. Ook kunt u gebruik maken van onze fittingzoeker.
Kleurtemperatuur
6000K is de kleurtemperatuur van deze ledlamp.
Gebruik
Deze ledlamp wordt veel gebruikt als interieurverlichting in voertuigen.
Lumen
Lumen zegt iets over de lichtopbrengst van de lamp. Deze lampen hebben een lichtopbrengst van ca.120 lumen.
Lange levensduur
De ledlampen hebben bij normaal gebruik een maximale levensduur van ca. 50.000 branduren.
LED lampen van MUDLIGHT betekend snel, gemakkelijk en hoge kwaliteit:
Dit product is niet bestemd voor de openbare weg, vanwege een EU-verordening. Klik hier voor meer informatie.
Beoordelingen (0)
Beoordeel
Note: HTML-code wordt niet vertaald!
Verder