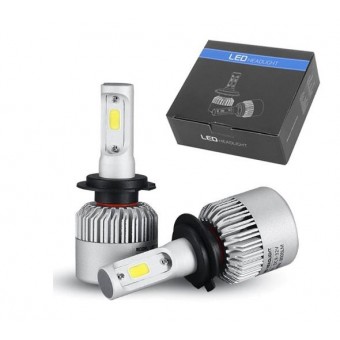 €39.95
Excl. BTW: €33.02
Prijs in spaarpunten: 800
Beschikbaarheid:

Op voorraad

Model:

MUD-H3

Spaarpunten:

40
Omschrijving
Deze LED H3 ombouwset heeft een 3x hogere lichtopbrengst als een standaard halogeenlamp.

De 1e LED lamp die wint van Xenon!
Eigenschappen:
Lamp vermogen: - ca. 37 Watt
Lichtopbrengst: - ca. 4000 Lumen
Spanning: - 9-32 volt DC
Kleurtemperatuur: - 6000K
Waterdicht: - IP65
Inhoud:
2x LED lamp H3
Welk type lamp:
Weet u niet zeker welk type lamp u nodig heeft, kijk dan op de lamp-unit of raadpleeg het onderhoudsboekje van uw voertuig. Ook kunt u gebruik maken van onze fittingzoeker.

LED techniek
Deze LED lampen hebben een extreem hoge lichtopbrengst. De led lampen worden gekoeld door een compact koelelement met een zeer kleine ventilator die aan de achterzijde van de lamp zit. Dit zorgt ervoor dat deze LED set een stuk makkelijker te installeren is ten opzichte van andere LED ombouwsets. Andere LED ombouwsets worden namelijk uitgevoerd met; of grote ventilatoren of bijvoorbeeld grote koelelementen. Deze zijn lastig in de koplamp unit weg te werken vanwege de enorme afmetingen. Het komt zelfs voor dat het helemaal niet past.

Pasvorm
Deze led ombouwset is de kleinste maat die in de markt is gezet. De afstand vanaf de voet van de lamp tot de achterzijde van de lamp is 43mm. De diameter van het koelelement is 35mm. Door deze geringe afmetingen past deze ledverlichting in bijna iedere unit.
Kleurtemperatuur
6000 Kelvin is de kleurtemperatuur van deze ombouwset. 6000K komt het dichts bij normaal daglicht en wordt het meest toegepast in voertuigen.
Lumen
Lumen zegt iets over de lichtopbrengst van de lamp. Deze lampen hebben een lichtopbrengst van ca. 4000 lumen. ter vergelijking, halogeenverlichting heeft een lichtopbrengst van ca. 1200 lumen.
Lange levensduur
De ledlampen hebben een maximale levensduur van ca. 50.000 branduren.
LED lampen van MUDLIGHT betekend snel, gemakkelijk en hoge kwaliteit:
Al onze LED lampen zijn van hoge A-kwaliteit, radio-ontstoord en voorzien van een eenvoudige handleiding.
De ledlampen geven direct maximale intensiteit bij inschakeling. Met enige technische kennis is dit vrij eenvoudig snel zelf te installeren. Deze led ombouwset maakt het mogelijk om de nieuwste innovatie toe te passen in uw voertuig.
Dit product is niet bestemd voor de openbare weg, vanwege een EU-verordening. Klik hier voor meer informatie.
Beoordelingen (0)
Beoordeel
Note: HTML-code wordt niet vertaald!
Verder